Who is Pete?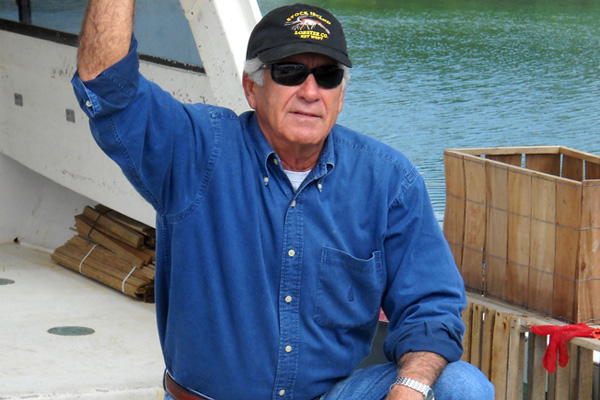 Peter (Pete) Bacle, is the owner of Stock Island Lobster Company, a Key West fish house started by his father in 1953. It is the oldest fish house in the Florida Keys, and has historically been the largest dockside producer of lobster in the State. It still operates as a traditional fish house in which the fishermen are supplied with dockage, land storage for traps, and general trip expenses such as fuel, bait, and ice. In return they sell their catch to Stock Island Lobster Co., which then markets it worldwide.
Pete's father (Pete Sr.), was among the first trap users in Key West, and worked his lobster boat until the age of 87. Pete grew up on the boat with his father, and spent his youth helping with trap building and working around the fish house, before operating a boat of his own for over 20 years. Besides lobstering, the family has been involved in virtually all of the fisheries in the Florida Keys, including Stone Crab, snapper-grouper, mackerel, swordfish, shark, Golden Crab, tilefish, shrimp, baitfish, sponge, and even turtle and conch when they were still legal. They have used all means of fishing including hook and line, fish traps, long lines, gill nets, cast nets, bully nets, and shrimp nets, as well as spear guns, gloved hands, and sponge hooks.
Today, son Lucas carries on the tradition, and works his grandfather's 43' boat the Big Crawl. Lucas is the 6th generation in his family line to fish for a living in Key West. Daughter Jenny runs the office, and after 17 years of being involved in every phase of the business, fully manages the fish house when Pete is not around. Mom, at the age of 88, still comes to the office every day, as she has done for the past 57 years. Mary speaks fluent Spanish, and 'Maria' has been like a Mother to two generations of Cuban heritage fishermen.
Brother Jim, is the owner of Bacle Boat Company, and manufactures 43' and 48' fiberglass boats. Along with his sons J.P., and Rhett, he has built more than 100 commercial and recreational vessels. He also has a full service boat yard, and operates a 40 ton travel lift, which is capable of hauling out 65' boats.
Pete entered the family business after graduating from college in 1969. In addition to working most fisheries to one degree or another, and operating a restaurant and fish market on Duval Street, he has been an active participant in the regulatory process. Starting with an advisory panel for the Gulf Fisheries Council at its' inception, to most recently a seat on the Lobster Advisory Board for the Florida Fish and Wildlife Commission, Pete has served on numerous advisory boards and panels, as well as being a vocal participant at hundreds of regulatory hearings as far away as Washington D.C., and New Orleans.
He also founded – along with Leo Cooper, Gary Graves, and Jack Hill – the Florida Keys Commercial Fishermen's Association (originally named Monroe County Commercial Fishermen), and remains an active member and supporter. Additionally, he had some experience with public service, having served on the Monroe County Zoning Board (now called the Planning Commission) in the 1980's, when Monroe County was formulating it's first Comprehensive Land Use Plan.
Today, Pete continues to actively run the fish house operation, and spends an occasional day in the boat with Lucas pulling lobster traps or Yellowtail.