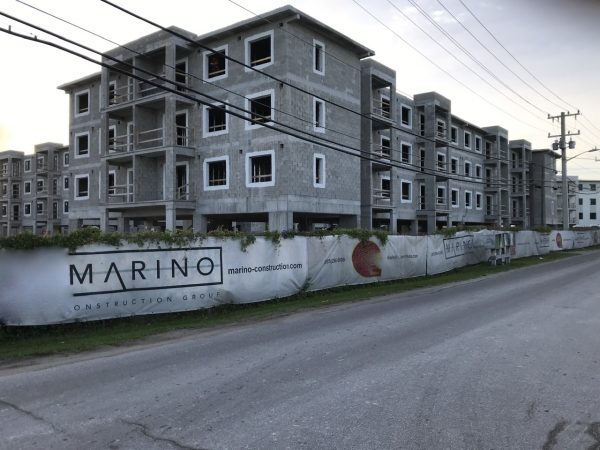 You may have seen this creature from the highway. It sits behind Murray Marine on Stock Island, and a drive down US 1 allows an expansive view of the growing monster. If you want the full effect however, you must turn off the highway at McDonald Avenue and drive until you reach the Tom Thumb store.
There, rising above Maloney Avenue, you will see the development monster up close in all its concrete glory. In fairness to the monster, let's point out that in its new habitat, the word 'development' is considered a derogatory and not used in good company. Development comes off the tongue sounding somewhat cold or even mercenary, so today the preferred word is 'gentrification'.
In case you are not familiar with gentrification, it means turning Stock Island into Key West. The political and economic interests that decide 'how much is enough' for Key West, have determined that Stock Island is just that 'little bit more'. Being conveniently located and relatively underpriced in the world of hedge fund billions, the north side of Cow Key Bridge is simply ripe for gentrification.
Down on ground zero, gentrification means converting 90 metal trailers into six, four story concrete buildings. It means 280 dwelling units which will bring in a thousand or more new residents. It means 500 or more new vehicles driving and parking on our already congested streets. It means paying for upgrades in streets and parking, as well as expansion of emergency, educational, and municipal services. It means years of inconvenience for current residents as construction and upgrades progress through multiple new developments, and we continue down the yellow brick road to Disney heaven.
If you happen to live or work on Stock Island, get used to the visual offense of these monolithic concrete structures. Similar developments called hotels, condos, and transient rentals, along with pre-fab structures perched atop concrete pilings, are simply the new look of the Florida Keys. By the way, don't be too concerned about the loss of ninety trailers. They may be regarded as transferrable development rights, in which case they will reappear somewhere as hotel rooms, condos, or transient rentals.
Ostensibly, we are supplying the affordable housing desperately needed for our workforce. The notion that piling more people into an ever-constricting space is solving more problems than it's creating, is as silly as contending that the new units will just be filled with current residents upgrading, while their former dwelling remains unoccupied.
It's been about a decade since we were told the State of Florida was only allowing a dozen new construction permits for the Florida Keys. Since then, we have added several thousand new units, with more being completed each day. Whether you call them hotel rooms, dwelling units, or workforce housing, they all bring more people to impact the quality of life in the Keys.
One can't blame the developers and contractors who are only taking advantage of what our system and politicians allow. To be sure, clever speculators use variances, transferrable building rights, and architectural gerrymandering, to see that most properties become developed well beyond their original intent. While the maxed-out usages may be perfectly legal, they are breaches of public trust for which we can legitimately blame our elected officials.
But to those who are concerned about the ever-increasing congestion and cost of living in the Keys, not to worry. According to the latest political propaganda, 'build out' is coming to the Keys, and we will soon have a firm limit on new construction…… Don't believe it!